New member with a 2008 panel
11-02-2018, 09:52 AM
Join Date: 11-02-2018
Location: Racine, WI
Posts: 9
New member with a 2008 panel
---
Hello, everyone. Today I add yet another vehicle forum membership to a long line of automotive forum memberships. I recently acquired this wonderful HHR panel from a gentleman retiring from the hot-rodding business (he used it to haul parts).
About me: I am a mobile auto detailer. I'm something of a Jeep XJ expert. I'm an avid canoe tripper and camper. I am a biologist with expertise in natural areas management/ecology and canine behavior.
About this HHR: It's an automatic 2.2. 85k miles. Its first owner was in Ohio (all I know). It's second owner was a speed shop in Michigan. It's third owner was the previously-mentioned hot-rod shop. I'm fourth. I have no information on the origins of the paint job (wish I did). The hot-rodder applied the gravel guard you see on the bottoms of the doors (rust free inside and out). Word is that the 1" lowering is via a Belltech kit, but I haven't been able to verify this. It has blue undercarriage lighting by Varad, but none at the front, and the passenger side has some dying diodes.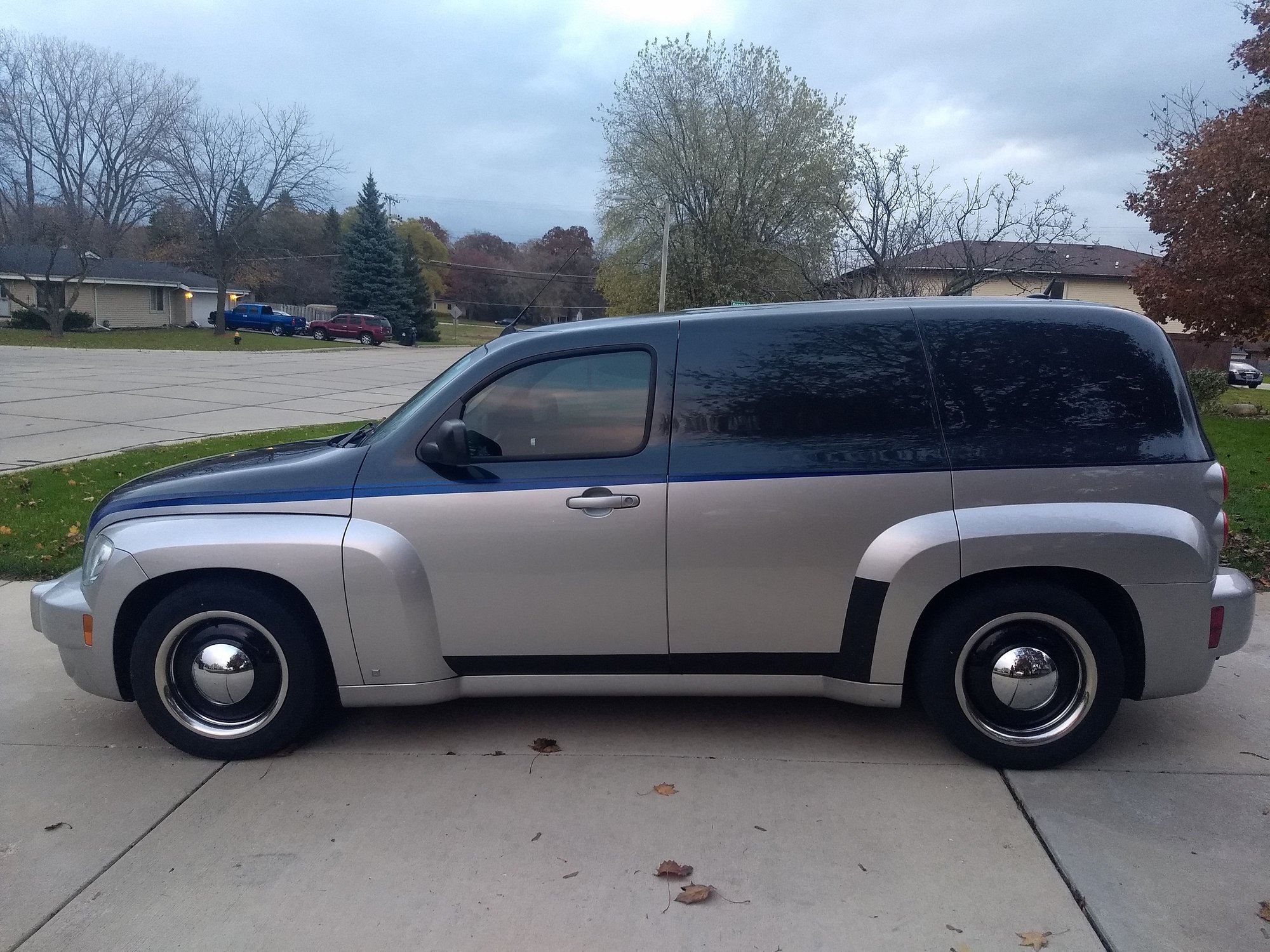 11-02-2018, 10:30 AM
Join Date: 11-02-2018
Location: Racine, WI
Posts: 9
As soon as I know the details of these wheels (if I ever do), I'll happily provide them. All I know is that hot-rodder replaced the chrome bits (suggesting the wheels themselves predate him) because they had been in bad shape.
11-02-2018, 02:15 PM
Welcome to the site! Those are Wheel Vintiques, Smoothies with a baby moon and beauty rings very cool.
If you search through the early posts of HHR of the month entries, you might find the OO and their story of this panel.
11-02-2018, 02:58 PM
11-03-2018, 07:41 AM
Join Date: 11-02-2018
Location: Racine, WI
Posts: 9