Testing your Buying Skills ....
12-09-2018, 06:18 PM
Senior Member
Join Date: 08-26-2008
Location: Sequim Washington
Posts: 1,292
Testing your Buying Skills ....
---
This ..... Or a 2010 SS with same mileage for about $10,000 ? + or _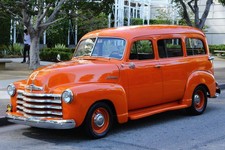 Pre-Owned
$23,700.00
Classified Ad with Best Offer
Pickup only: Free
Year: 1951
Mileage: 97,841
Silverfox
12-09-2018, 08:30 PM
Member
Join Date: 10-17-2018
Location: FL
Posts: 87
honestly, Id get the '10 SS.
there is one of the old skool panel like that near me, sitting behind a fence, that has a good body on it (no visible rust) , Ive toyed with finding the owner and seeing if i cna buy it for a good price, then ratrodding it.
12-09-2018, 09:55 PM
Senior Member
Join Date: 08-26-2008
Location: Sequim Washington
Posts: 1,292
I would have to say ... As much as I love Classics, I can't imagine the Panel exciting me when driving it.

Blue ... I owned a 51 2dr 3 speed column shift and still remember how much fun I had with that car in that time of my life.
BUT !!
Hands down, The SS is my choice, and would do something special with the $13,000 left over.

Silverfox
12-09-2018, 10:04 PM
Well take the '51 Sub, throw a late S-10 frame under it, you got modern running gear, add a S-10 Blazer rear end to get rear disc brakes to go with the front D/B, add A/C & have a nice day.

Or yank the current 327 & add a nice lightweight LS engine & 4L60E tranny... & don't worry be happy, But I'd prefer a '51 Pick up all day.


12-10-2018, 07:18 AM
Senior Member
Join Date: 10-01-2018
Location: Downingtown, PA
Posts: 174
I rolled this very thing before I settled on my HHR. Now, my HHR isn't an SS and I don't care, but the argument was the same. I was looking for a hauler as a daily. My then current daily is/was a 2006 Chevy 2500 with the 6.0. Did everything as expected a truck that size, including the 10mpg no matter what I was doing.. and what I was doing were semi-long trips around the state. So.. enter looking for a vehicle to haul the lightweight stuff I was carrying and still returned a decent mileage. I had found a mint - and I mean mint - 1947 Chevy ambulance that was all original. Two doors with the loading door on the rear.. perfect! Price was a bit high but worth it for what it was. So I soul searched and talked with my buddy who is a mechanic about reliability, parts (of which anything can be had for, including disc brakes etc), and general maintenance. His basic response was that these cars were used as cars back in the day.. nothing has changed. In the meantime I was still looking and had bookmarked several HHRs in my area, including a couple panels on the east coast. It took me about 2 weeks to make a logical decision against the antique vehicle because it would A) be sitting outside all the time B) return a modest gas mileage C) has no safety features at all. So now, sitting in the driveway, is my 2010 panel that returns anywhere between 25 and 30 mpg depending where I'm going and has modern safety features already built in.
While I'd love to have that Suburban, it would always be a part time toy... and I have enough of those in the garage already...
12-10-2018, 08:48 PM
The Panel is a good choice imo. Once I saw GM making a Panel version of the HHR, I knew I wanted one. Now having mine over 9 some years, I know I made right decision.
I found a nice 2LT, the SS was cool, but it wasn't for me.